In this Update:
Florida, Ohio 'Heavy Hitters' Prove 'ERIC' Not Needed
Senator for A Day: A Learning Opportunity to Remember
Education Committee Advances Measure to Empower Parents to Control Sexually Explicit Content in School Libraries
Standing With Israel, Condemning Hamas
2023 PA March for Life
Senate Advances Critical Support for EMS, Hospitals and Nursing Homes
---
Florida, Ohio 'Heavy Hitters' Prove 'ERIC' Not Needed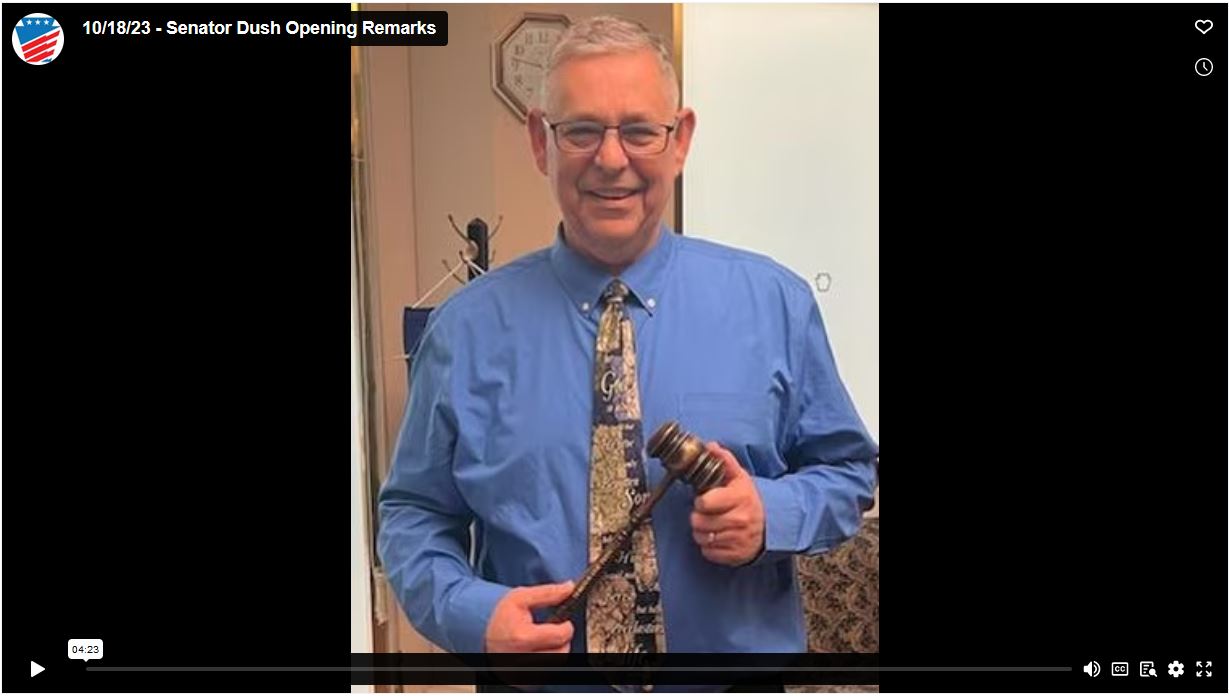 As chairman of the Senate State Government Committee, I convened a public hearing on Oct. 18 to receive testimony from Florida Secretary of State Cord Byrd and Ohio Secretary of State Frank LaRose regarding the departure from the Electronic Registration and Information Center (ERIC) by their respective states.
In 2016, Pennsylvania's Department of State entered into an agreement with ERIC without the consent of the Legislature. ERIC is a private corporation, founded by a partisan activist, that claims to help participating states identify ineligible voters at the county level.
To date, nine states (Louisiana, Alabama, Florida, Missouri, West Virginia, Iowa, Ohio, Virginia and Texas) have withdrawn from ERIC over concerns about data privacy, transparency and partisanship. Additionally, all nine states are creating and implementing their own solutions to further ensure voter roll integrity.
The writing is already on the wall about the future of ERIC. They're hemorrhaging members, which means costs go up for the rest of us. They're losing court battles to keep their practices secret. States like Florida and Ohio are developing their own data-sharing agreements requiring little to no cost, and proving they don't need an opaque and costly corporation to do this for them.
Secretary LaRose acknowledged that Ohio had never used ERIC data to cancel inactive or ineligible registration and criticized ERIC's unbalanced approach to making voter list maintenance optional while making voter registration mandatory.
He also highlighted Ohio's continuing work to develop cross-state, data-sharing agreements, as well as other practices being picked up by various other states.
"I describe voter list maintenance like hygiene," testified LaRose. "It's like brushing your teeth. It's something election officials need to do every day. We're constantly doing voter list maintenance."
Secretary Byrd raised concerns about the privacy, security and taxpayer costs of ERIC voter data, which directly contributed to Florida's departure. He also stressed the importance of daily updates to voter lists.
"Literally every day supervisors are engaging in list maintenance – clean rolls lead to cleaner elections," Byrd stated. "Because it's so easy to get on the rolls, we have to make sure we're doing a good job on the front end."
During my closing comments, I expressed optimism that Pennsylvania can begin cooperating with other states such as Ohio and Florida to fortify our electoral process, instill confidence in voters and preserve integrity in every election, at every level.
The purpose of Wednesday's hearing was not necessarily to begin formulating an ERIC exit strategy but to prove Pennsylvania does not need to rely on expensive, secretive organizations such as ERIC to police, maintain or outsource our voter rolls.
Our Department of State can begin cooperating with other states right now – whether they are members of ERIC or not. I believe they should, and I hope they will.
Wednesday's full public hearing can be viewed here.
Senator for A Day: A Learning Opportunity to Remember
Last week, I hosted my first-ever "Senator for a Day" seminar at Lock Haven University for nearly 60 students representing local school districts from across the 25th Senate District.
This hands-on learning experience allows our future leaders to get a glimpse into how their state government really works.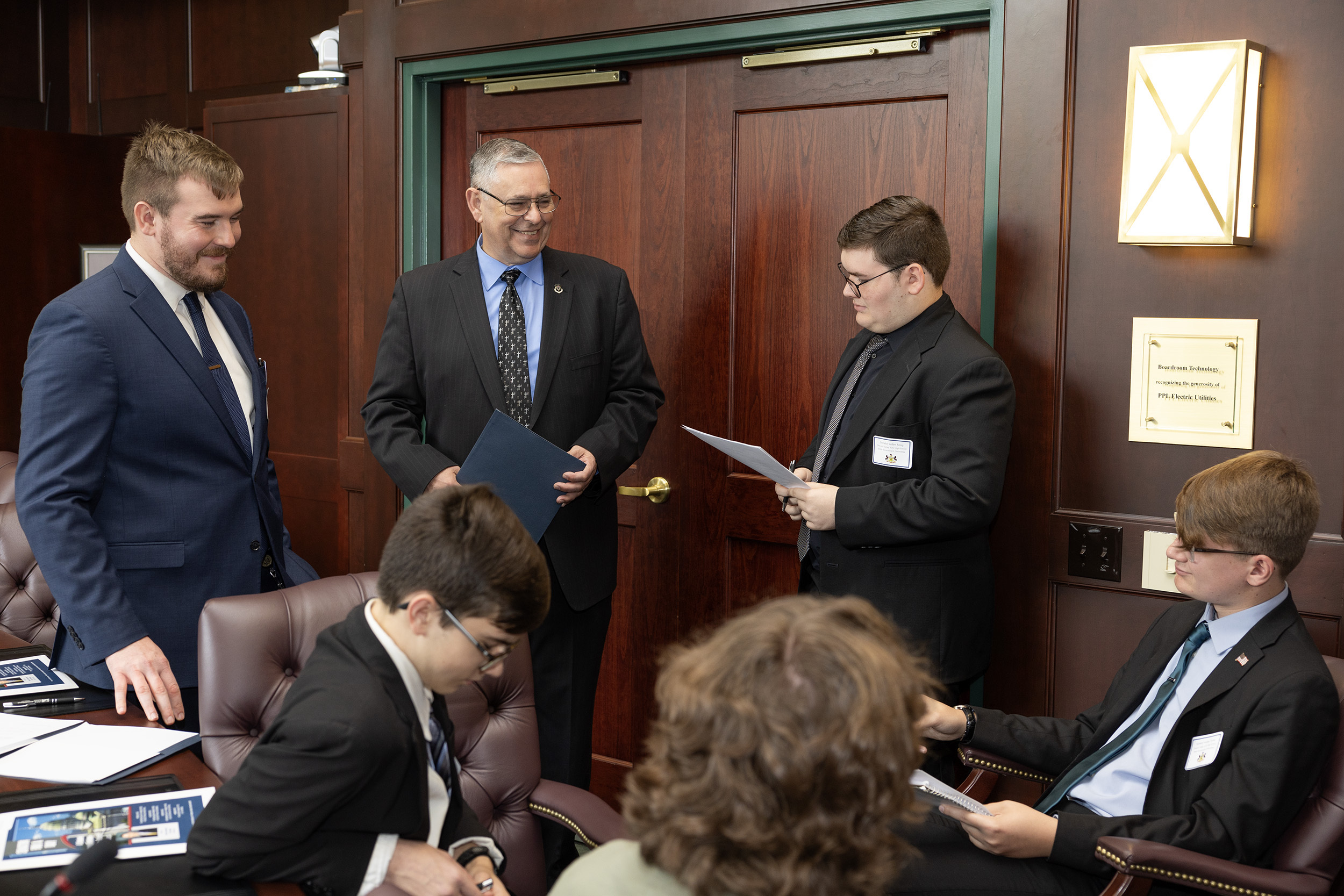 Students were sworn in to serve as "senators" and were presented with opportunities to craft and debate actual legislation across several different committee settings and then before the full "Senate" to close out the day.
Rather than reading about the legislative process, our high school lawmakers actively engaged in helping to shape policies and laws that impact their everyday lives.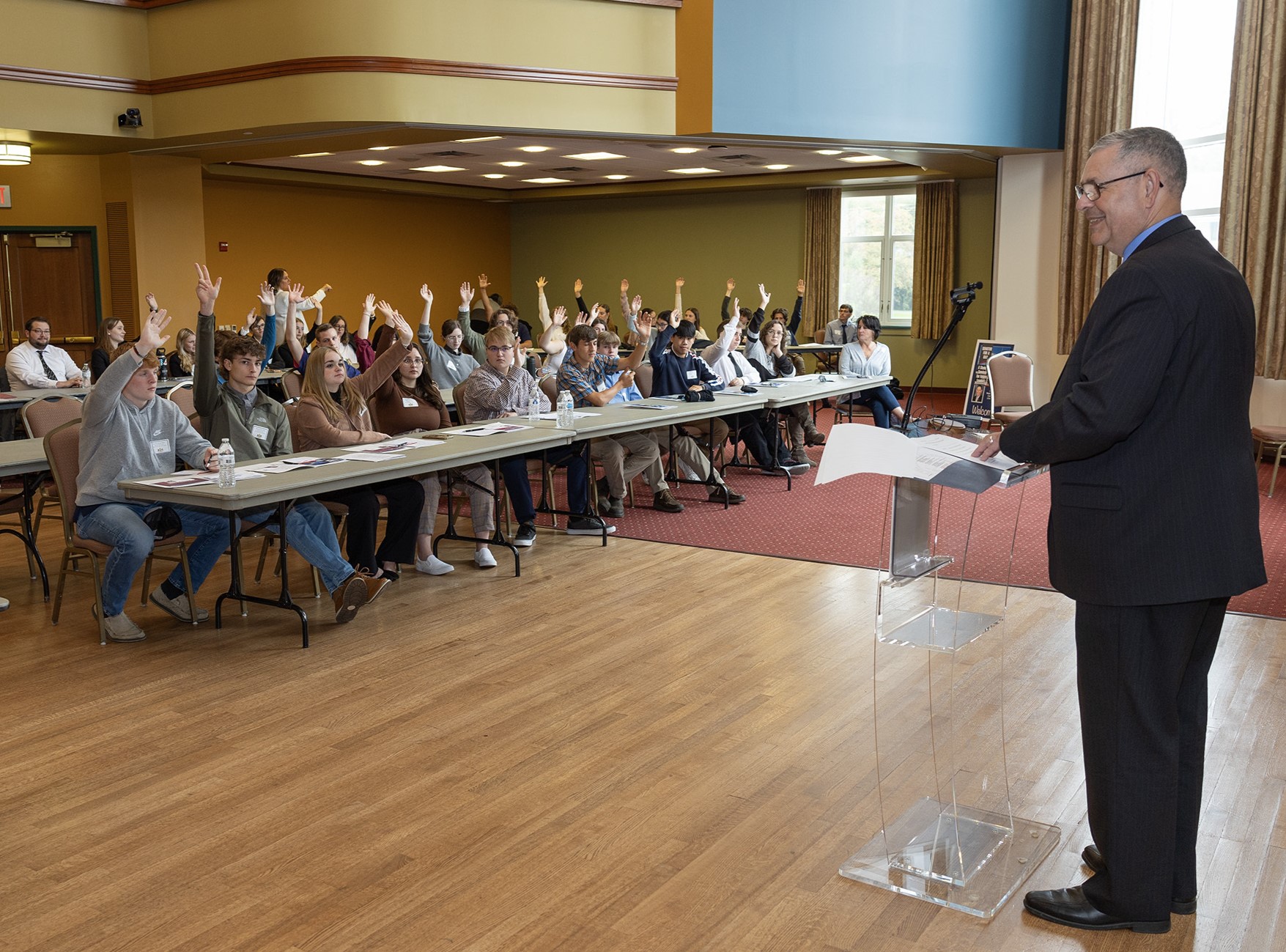 This was definitely a memorable and informative day for all who participated, including teachers, administrators and my highly dedicated team who made this learning opportunity so fun and rewarding for both the students and myself!
Best of all, as we were wrapping up "Senator for a Day," several students personally informed me how much they enjoyed this experience and that they would be coming back next year and bringing more of their classmates.
Education Committee Advances Measure to Empower Parents to Control Sexually Explicit Content in School Libraries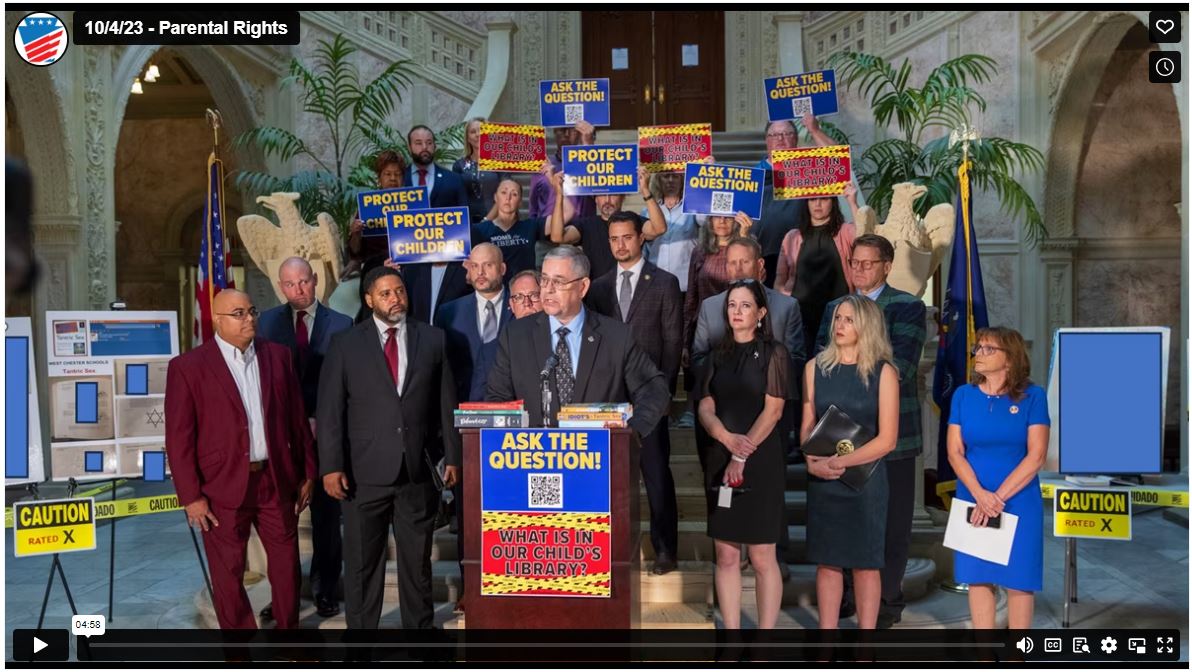 The Senate Education Committee advanced a bill to provide parental control of student exposure to sexually explicit content in schools. Pennsylvanians over the age of 18 can view examples of such content here. Prior to the vote, the committee held a public hearing about the measure.
Senate Bill 7 would require schools to:
Identify sexually explicit content in school curriculum, materials and books.
Create an opt-in policy that would:

Notify parents of the sexually explicit content by including a list of the book titles on the form.
Give parents the opportunity to review the materials.
Require parents to give direct consent for their children to be provided or have access to sexually explicit content.

Provide children with non-explicit alternatives if their parents do not opt in.
Importantly, Senate Bill 7 would not ban any books from any Pennsylvania school curriculum or library, but rather empower parents to control only what their own children have access to in school.
Click on the video link above to watch my previous comments in support of Senate Bill 7.
Standing With Israel, Condemning Hamas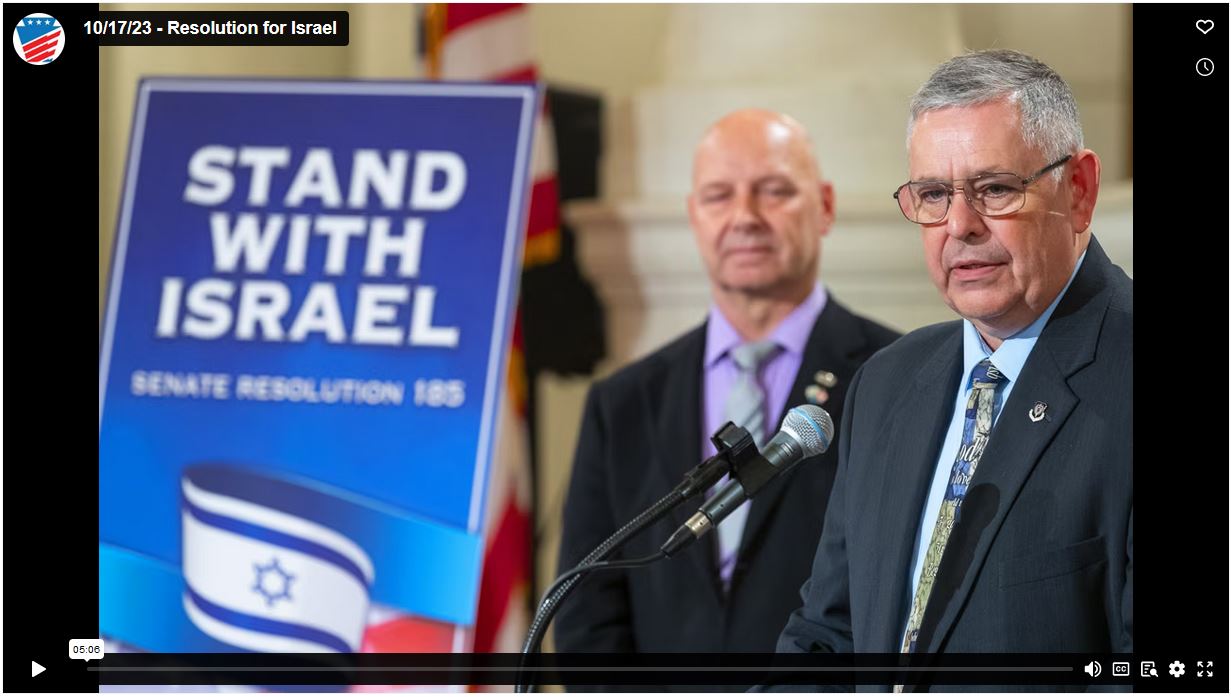 This week, I spoke on the Senate floor in support of Israel following the inhuman, torturous and murderous terrorist attacks perpetrated on innocent civilians by Hamas. The Senate also approved a resolution condemning Hamas' Oct. 7 carnage.
Senate Resolution 185 demonstrates Pennsylvania's support of the Jewish people as they defend against this terrorist threat. It says that we stand "firmly with the people of Israel and their right to defend themselves." It labels the attacks by Hamas as "shocking, barbaric and evil," further adding they "amount to war crimes of the worst kind."
The resolution further stipulates, "Israel has every right to defend itself with all due force" and noted Pennsylvania's "special relationship" with Israel since the country declared independence in 1948.
2023 Pennsylvania March for Life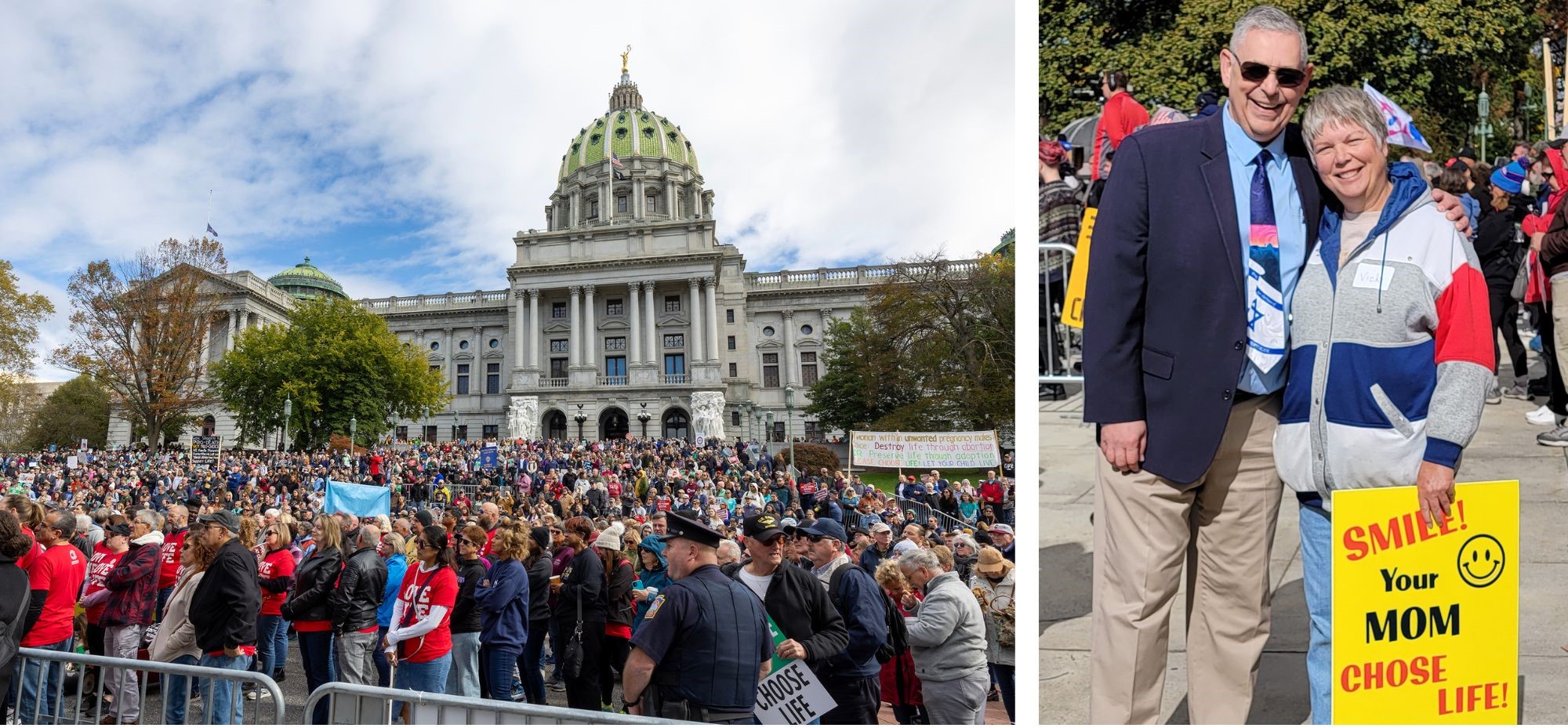 It was wonderful to see so many people out in front of the Capitol for the Pennsylvania March for Life 2023 this past Monday.
Current and former (from my days in the House) constituents were there as well as people from across the commonwealth.
One woman's sign was very poignant, stating that she was conceived by rape and grateful for her life. God says He knew us before He knit us together in the womb. I pray God truly blesses her mother!
Please continue to pray for those who find themselves in situations with unplanned pregnancies and feel they have no place to turn. If you find yourself in such a situation, please reach out to my offices or a friend who knows how to contact a Crisis Pregnancy Center. There is help.
Thanks to all who showed up in support of those who don't (yet) have a voice!
Senate Advances Critical Support for EMS, Hospitals and Nursing Home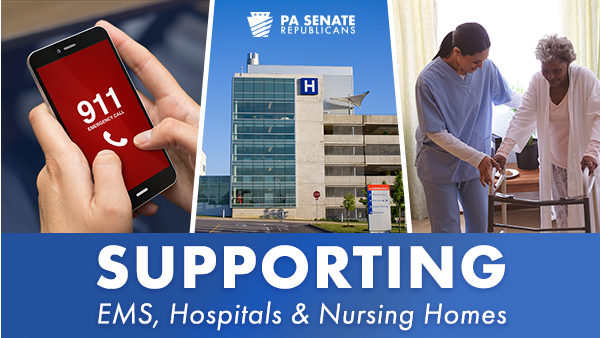 This week, the Senate approved legislation advancing critical public health components of the budget process.
Passage of House Bill 1351 addresses the crucial public health needs for emergency medical services, hospitals and nursing homes and ensures Pennsylvanians continue to receive access to needed health care services.
The bill:
Increases EMS reimbursement rates for services and ensures providers are compensated for all loaded miles. The changes will drive $126 million of new revenue and new resources into the EMS network statewide.
Reauthorizes a state assessment on hospital services, generating revenue supplemented by federal funds and returned to hospitals. The first payment to hospitals is typically made in mid-October.
Freezes the Nursing Facility Case Mix Rate to reduce volatility and level the playing field so Pennsylvania nursing homes can continue to meet the needs of vulnerable patients.

For anyone who hasn't already signed up to receive my mission reports, you can get on the e-newsletter mailing list here.