In this Update:
For the People: Senate Approves Legislation to Require Constitution Preamble Displays in Public Schools
Empowering Parents, Protecting Children, Supporting Senate Bill 7
Welcome to Your State Capitol
Senate Votes to Extend and Improve Program to Protect Students
Grants Available for Organizations Helping Veterans
Recognizing Pennsylvania's First Responders
---
For the People: Senate Approves Legislation to Require Constitution Preamble Displays in Public Schools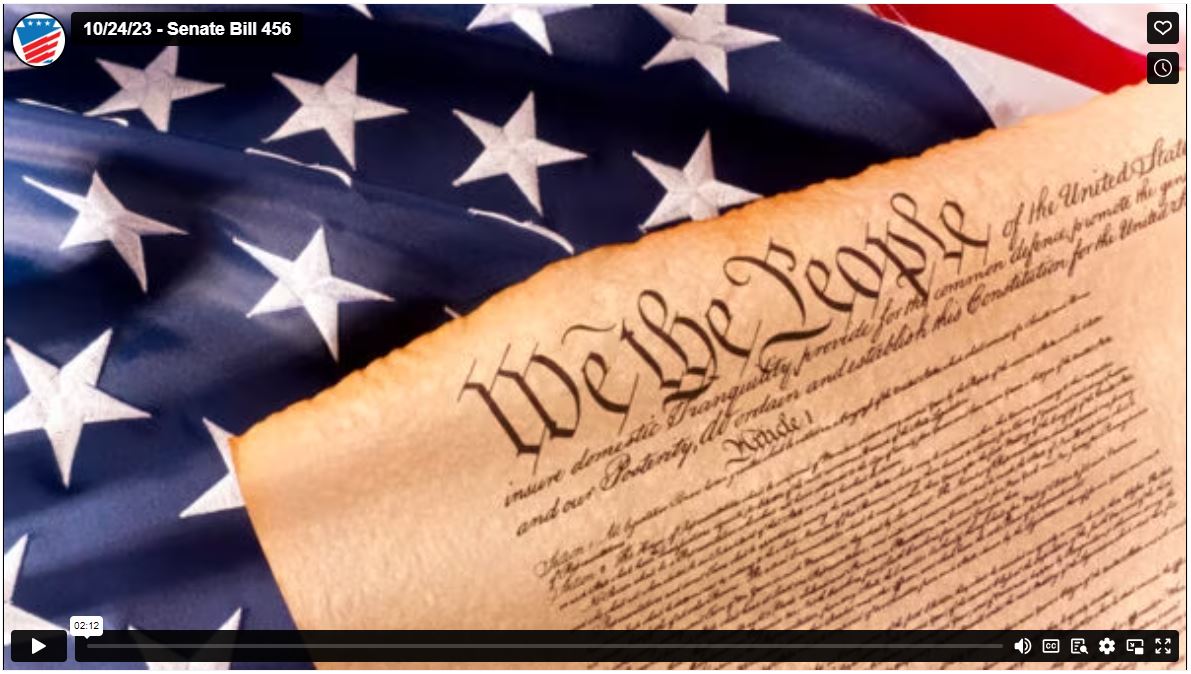 My legislation which would require Pennsylvania public schools to display the preamble of both the state (Senate Bill 353) and federal (Senate Bill 456) constitutions was approved by the Senate on Tuesday.
While other forms of government have relied on the use of force for a dictator, monarch or totalitarian organization to make subjects of the people, Constitutional Republics such as ours rely on a written declaration of "We the People" as to what form of government we will accept.
Updated for the 21st century, this means government can't touch any of our God-given, self-evident rights.
Both bills contain specific language which would enable each preamble to take the form of mounted plaques or other artwork from a student contest.
Sadly, due largely to woke indoctrination running rampant in some classrooms – which is often supplemented by the ever-increasing sexually explicit materials housed in our school libraries without parental consent (which would be addressed through enactment of Senate Bill 7) – we are moving dangerously close to the point where our Commonwealth's official motto of 'Virtue, Liberty and Independence' will be permanently shelved from public discourse and collective understanding.
It is my prayer that displaying these constitutional preambles in our schools will motivate students to think for themselves and achieve a deeper understanding of how these founding documents directly impact their everyday lives as Commonwealth and American citizens.
Senate Bill 353 and Senate Bill 456 now advance to the PA House for consideration.
Empowering Parents, Protecting Children, Supporting Senate Bill 7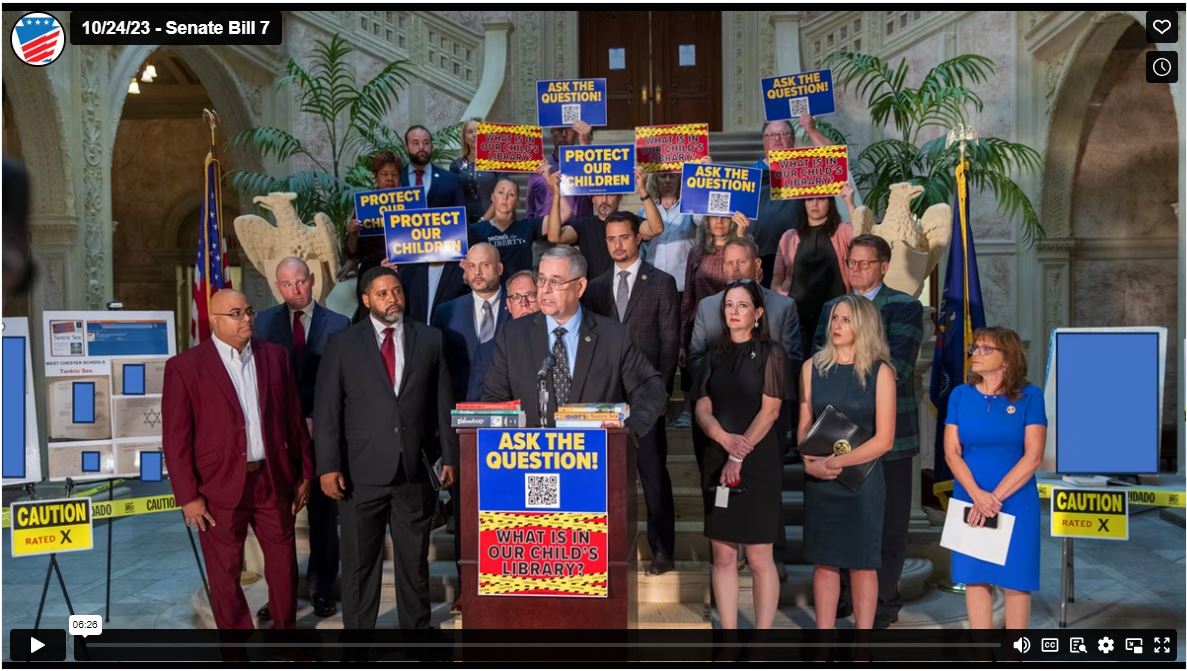 This week, I also supported Senate passage of legislation that would empower parents to protect their own child from accessing sexually explicit content at school.
Senate Bill 7 would require schools to:
Identify sexually explicit content in school curriculum, materials and books.
Create an opt-in policy that would:

Notify parents of the sexually explicit content by including a list of the book titles on the form.
Give parents the opportunity to review the materials.
Require parents to give direct consent for their children to be provided or have access to sexually explicit content.

Provide children with non-explicit alternatives if their parents do not opt in.
Now awaiting consideration in the state House of Representatives, Senate Bill 7 would not ban any books from Pennsylvania school curriculum or libraries, but rather empower parents to control only what their own children have access to in school.
The Senate also advanced legislation requiring schools to make public curriculum information available online, including a link or title for every textbook and course syllabus used for classes.
Empowering families and protecting children will always remain among my top priorities.
Welcome to Your State Capitol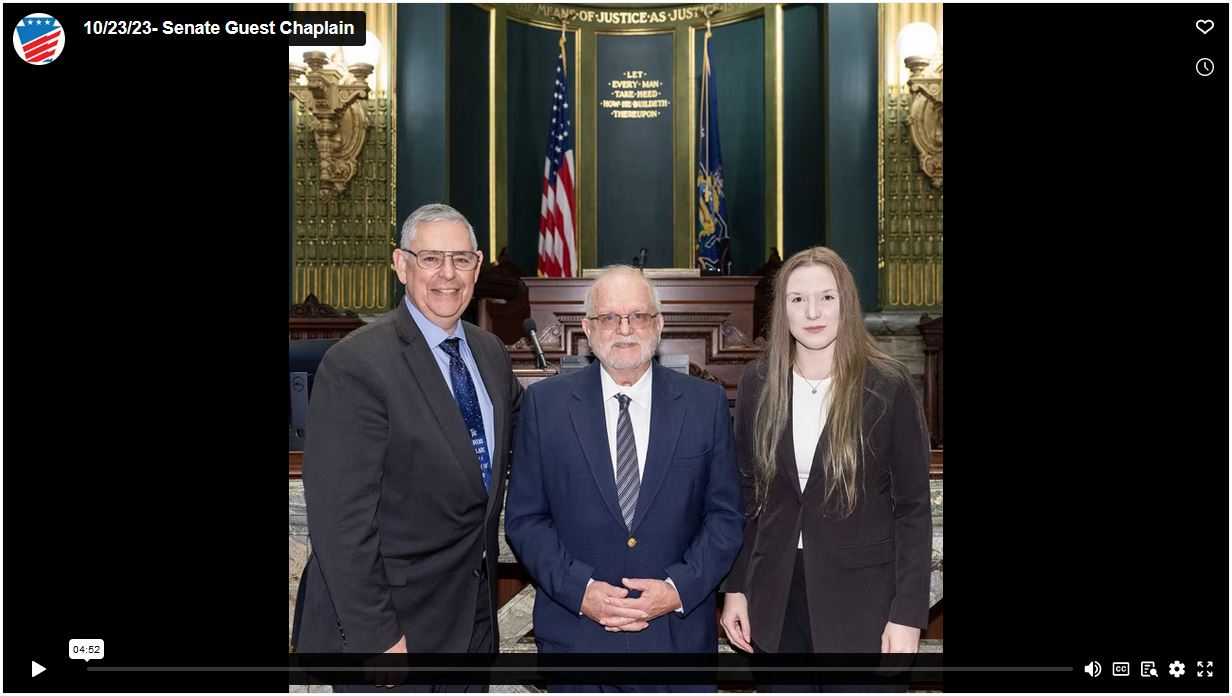 I would like to express my gratitude to Chaplain Rick Youngdahl, Interstate 80 Trucker and Traveler Ministry, for serving as guest chaplain and delivering Monday's opening prayer on the state Senate floor.
Accompanying Chaplain Rick on his journey to Harrisburg was his granddaughter, Rachel Youngdahl.
Senate Votes to Extend and Improve Program to Protect Students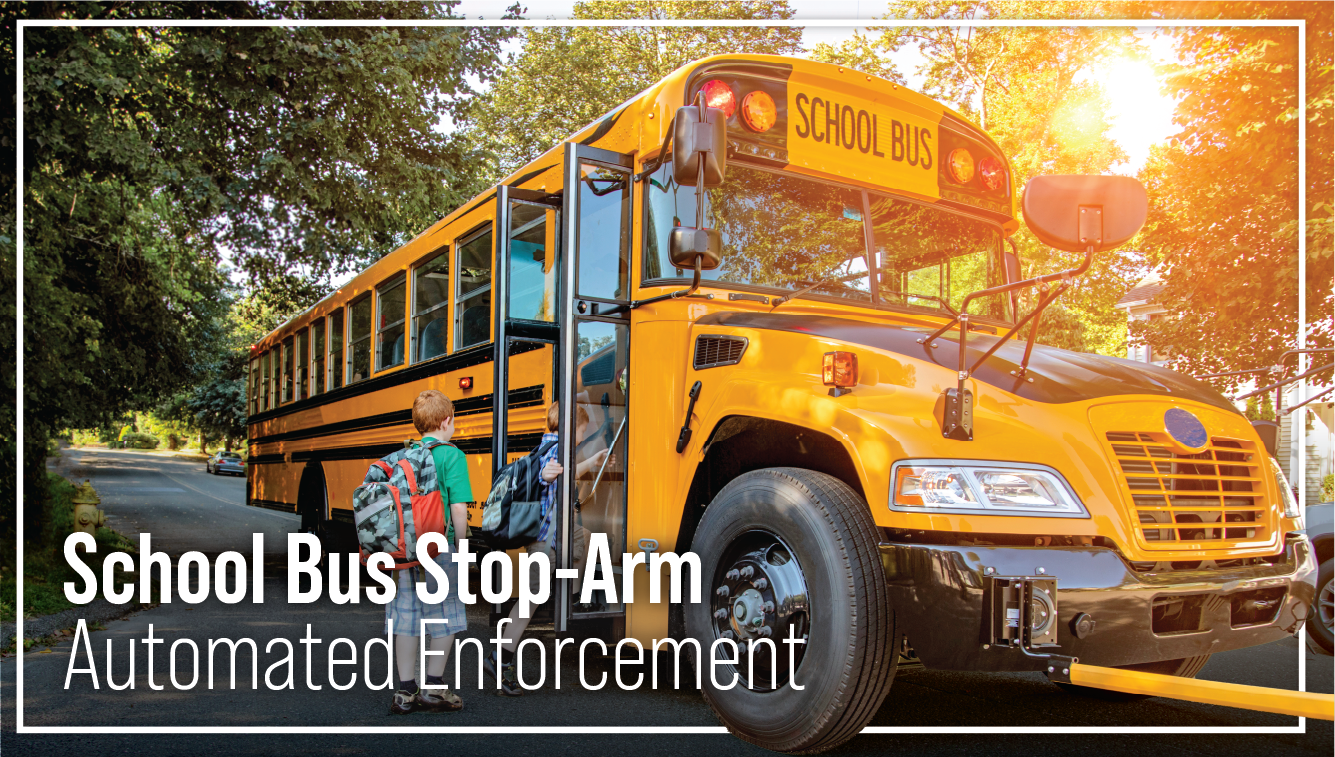 Building on recent legislation to improve school bus safety, the Senate approved legislation extending and improving the school bus stop-arm automated enforcement program. The measure is set for enactment into law.
The program was first authorized in 2018 and includes nearly 40 participating school districts that equipped 2,500 school buses with cameras to record vehicles that don't stop for school buses. More than 4,000 violations have been recorded.
The program was set to expire this week. Senate Bill 851 makes the program permanent, improves interaction with law enforcement and streamlines the appeals process. If a driver illegally passes a stopped school bus, the school district will send the car owner a police-vetted violation in the mail. The owner must pay the $300 fine or make an appeal for a virtual or in-person hearing overseen by a PennDOT official. The driver may petition a magisterial district judge after PennDOT's decision.
Grants Available for Organizations Helping Veterans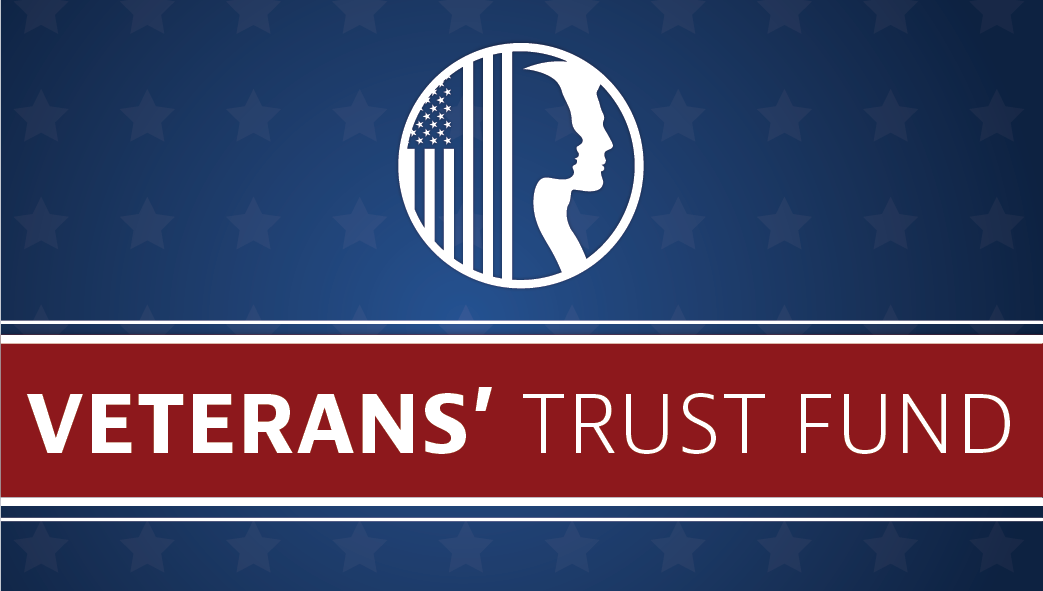 The Veterans' Trust Fund is accepting grant applications for programs and services benefiting Pennsylvania veterans. Nonprofit organizations, veteran service organizations and county directors of veteran affairs may apply by Wednesday, Nov. 8, at 2 p.m.
Find more information about the grant opportunity and how to apply here.
The trust fund is supported by Pennsylvanians who donate when applying for or renewing their driver's licenses, photo IDs or motor vehicle registrations; purchase veteran-specific license plates; or make private donations. Tax-deductible donations can be made online.
Recognizing Pennsylvania's First Responders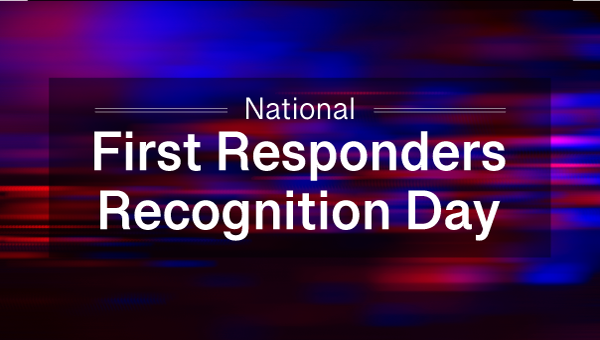 Saturday, Oct. 28, is National First Responders Day. Police officers, firefighters and emergency medical technicians care for us during some of life's worst moments. They are true heroes, and I am proud to honor their brave and selfless efforts.
My Senate colleagues and I have passed legislation to address the serious shortage of volunteer firefighters in the commonwealth. The number dropped from about 300,000 in the 1980s to less than 38,000 today, so they need our support. Without enough volunteers, communities across Pennsylvania face longer wait times when minutes make the difference between life and death.

For anyone who hasn't already signed up to receive my mission reports, you can get on the e-newsletter mailing list here.